DC Anti-Aging Lifting Reactive Skin / Rosacea
50 ml

Innovative anti-aging emulsion with anti-wrinkle action and soothing Reactive Skin. Increases elasticity, decreases wrinkles and redness.
Unique anti-aging emulsion on the market, with an innovative ingredient (DHMC) that ensures an effective anti-wrinkle action, while exercising a calming action.
DHMC decreases the depth of wrinkles, increases the elasticity and firmness of the skin, without causing any irritation or allergy to sensitive and reactive skin, unlike most existing anti-wrinkle ingredients (such as Retinol and its derivatives ).
With Escina (from Chestnut of India) and Triterpenes of Asian Spark, it reduces redness and improves the superficial microcirculation of the skin, preventing the appearance of cutaneous effusions (capillary vessels visible on the surface of the skin).
Rich in Antioxidants (Resveratrol, Polyphenols, Avocado Unsaponifiables and Dimethyl-Methoxy-Chromanol), which allow to reduce irritative, inflammatory processes and skin redness, also preventing skin aging and photoaging.
It also has SPF12 sunscreens, to protect the skin from UV radiation, avoiding the aggravation of reactive, sensitive and rosacea skin.
Its green tint allows to neutralize the redness characteristic of reactive and rosacea skin.
With dermatological tests that prove the significant increase in hydration and skin elasticity, decrease in the depth of wrinkles and redness, and improvement of the superficial microcirculation of the skin, after 6 weeks.
Prevention of aging for sensitive, reactive and Rosacea (Couperose) prone skin.
Apply on skin previously cleansed with DC Remover Reactive Skin / Rosacea, gently massaging until completely absorbed. It can be applied in the evening, with DC Moisturising Reactive Skin / Rosacea being applied in the morning.
Centella asiatica triterpenes, Aescin, DHMC, Shea butter, Glucan biopolymer, Palmitoyl tripeptide, Resveratrol, Polyphenols, Avocado unsaponifiables, Zanthalene.
Reactive / Sensitive Skin / Rosacea {{review.title}}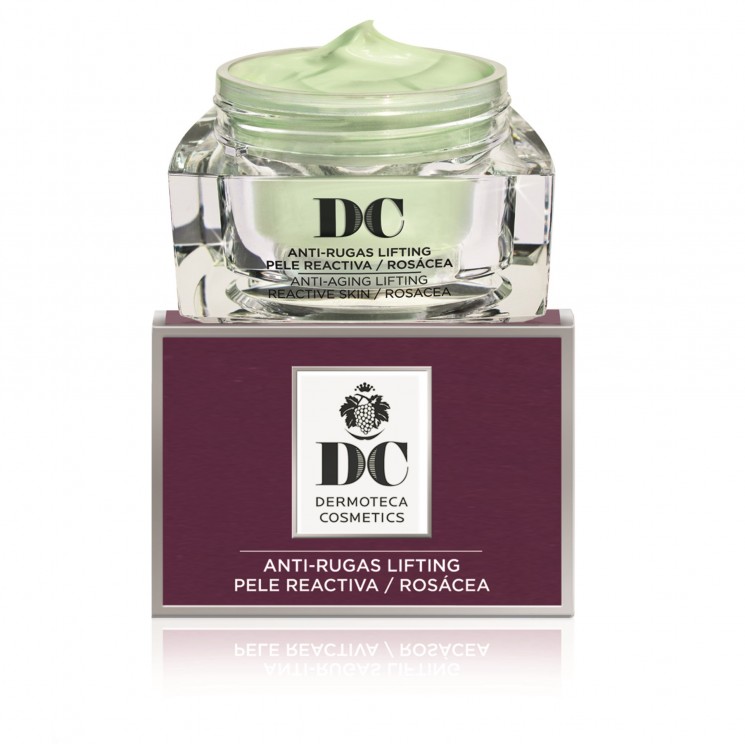 Search this Store
DC Anti-Aging Lifting Reactive Skin / Rosacea