DC Anti-Aging Lifting Oily Skin
50 ml

Fluid and non-comedogenic Anti-Aging cream for oily or combination skin, that increases the skin elasticity and hydration. With anti-wrinkle action.
Fluid and non-comedogenic anti-aging emulsion, specific for mixed / oily skin, which increases elasticity and hydration, with anti-aging action Dermatological tests prove these effects after 6 weeks of use.
The presence of Acetyl-Hexapeptide with a "botox-like" lifting effect together with a Synergistic Anti-Wrinkle Complex (Alpha, Beta and Poly-Hydroxy Acids, Zea Mais Extracts and Lupinus Albus Seed) effectively combat skin wrinkles.
Rich in Antioxidants (Resveratrol, Polyphenols and Proanthocyanidins), it prevents natural aging and skin photoaging.
The presence of and ingrediente, Soft Focus, interferes with the reflection of light on the skin, reducing the visibility of expression lines.
With Palmaria Palmata Extract it reduces age spots and reduces residual acne spots.
In the prevention of skin aging, for combination and oily skin, or skin prone to pimples and blackheads.
Apply on skin previously cleansed, gently massaging until completely absorbed.
Grapeseed extract, Vitis vinifera extract, Lactic acid, Glycolic acid, Hyaluronic acid, Acetyl hexapeptide, Allantoin, Avena sativa extract, Vitamin E acetate, Zea mays extract, Lupinus albus seed extract, Palmaria palmata extract. {{review.title}}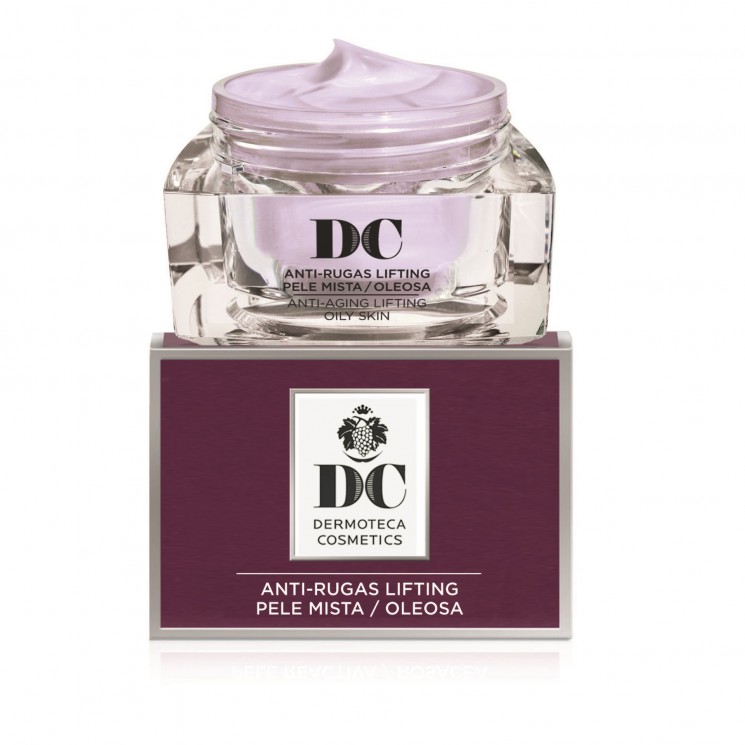 Search this Store
DC Anti-Aging Lifting Oily Skin