D'AVEIA Souple Intensive Repair
40 ml

Intensive moisturizer with a prolonged action for 8h. Repairs dehydrated skin, prevents water loss from the skin and actively moisturizes. Soothing and anti-irritant.
D'AVEIA Souple Intensive Repair is a dehydrated skin repairer with a clinically proven 8 hour long intensive moisturising effect.
Containing substances that reinforce the cohesion of epidermal cells, it protects the skin from water loss.
The presence of Biotechnological Hyaluronic Acid creates an invisible and permeable film on the surface of the skin, which retains water and increases hydration.
D'AVEIA Souple Intensive Repair moisturising effect is extended over time due to its unique Polymeric Gel System, which promotes the progressive and long-term release of water into the skin. Rich in proteins and polysaccharides, Oats provide a moisturising and anti-irritant effect. With Post-Biotics which react by protecting cells against dehydration through osmotic pressure.
The presence of Antioxidants also soothes skin irritation due to dehydration.
Dermatological tests have shown a 52% increase in skin hydration after just 30 minutes of application, and a 37% increase after 8 hours of application.
For dehydrated, dry and intolerant skin. Also Indicated as a coadjutant in dermatological therapy of xerosis and ichthyosis, due to its moisturising effect.
For dehydrated skin as a result of aggressive anti-acne treatments systemic or topical) or aggressive anti-wrinkle treatments (peelings, laser).
For irritated skin due to aggressive cleansing agents and extreme weather conditions. For Intolerant and Atopic Skin.
Apply on the face, gently massaging, until completely absorbed, in the morning and in the evening, or whenever needed.
Hyaluronic Acid BT, Postbiotics (Lactobacillus), Polymeric Gelling System, Colloidal Oatmeal, Xylitol, Antioxidants, Ceramide Concentrate, Free Fatty Acids, Phytosphingosine, Ceramides extracted from rice, Squalane, Sericin.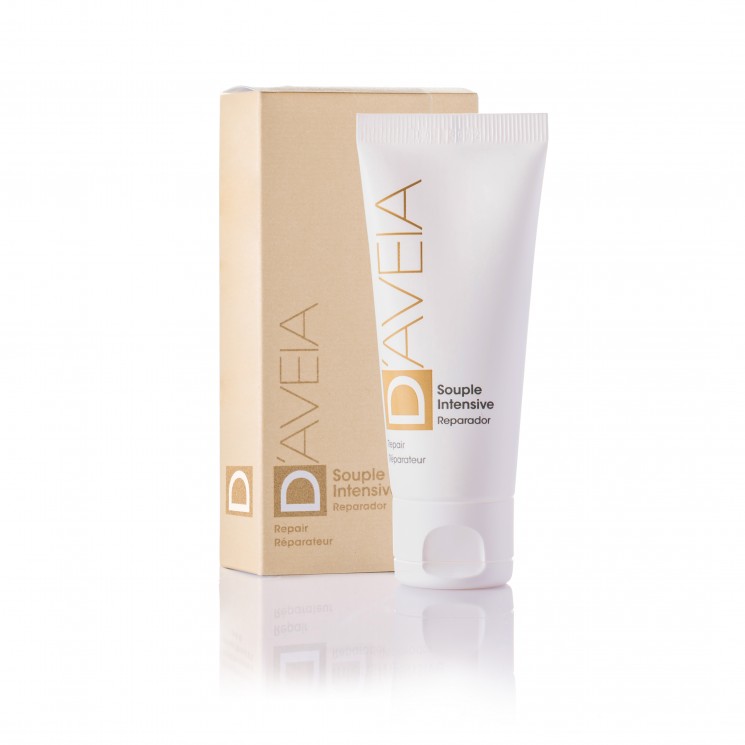 Search this Store
D'AVEIA Souple Intensive Repair