D'AVEIA PTA Cleansing Emulsion
200 ml

Cleansing emulsion for the daily hygiene of oily and acne-prone skin. It has sebum regulating, keratolytic and soothing actions.
Cleansing emulsion specifically developed for oily or acne prone skin. With Colloidal Oatmeal, with recognized moisturizing and protective properties. Its association with Rice and Beta-Glucan enhances its properties. It removes dead cells and prevents sebum retention.
The presence of Azeoglycine reduces oiliness on the skin's surface, restoring its physiological balance.
Dermatological tests have shown a significant reduction in skin oiliness.
For daily hygiene of acne-prone oily skin. Indicated as an adjunct to dermatological therapy for Acne and Seborrheic Dermatitis, reducing oiliness and dead cells on the skin surface.
Apply to moistened skin and massage gently. Allow to sit for a few minutes and rinse. May be used on face and upper body. Apply D'AVEIA PTA Gel-Cream.
In case of greater acne intensity, alternate your daily hygiene with D'AVEIA SEPT.
Colloidal oatmeal, Rice, Azeoglycine, Olea Europaea oil; ß-Glucans {{review.title}}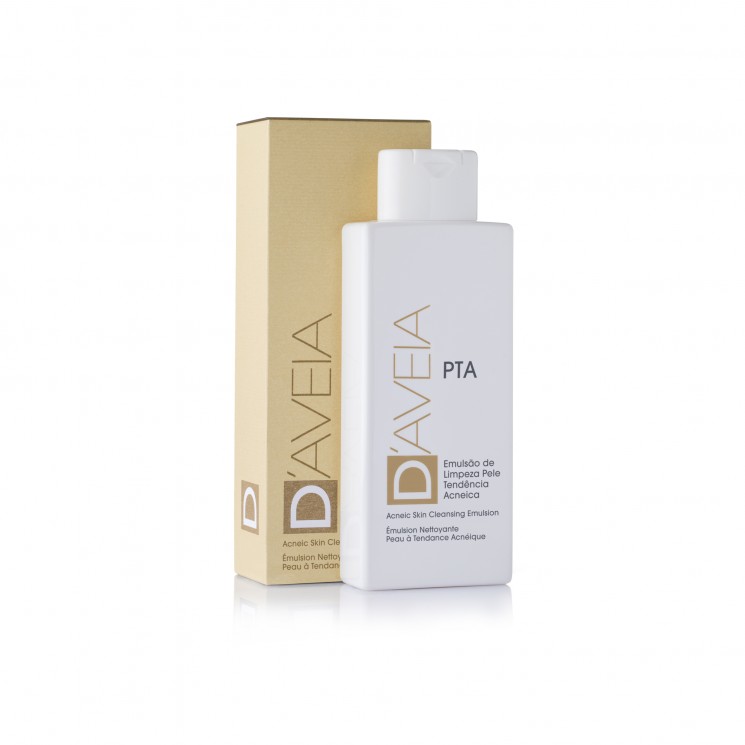 Search this Store
D'AVEIA PTA Cleansing Emulsion