D'AVEIA Ceutics Absolute Repair Intensive 40s
50 ml

Anti-Aging Night Cream, nourishing and moisturizing, indicated when wrinkles are established. Prevents and delays aging and photoaging.
Anti-Aging Cream indicated for when the first wrinkles are already established, roughly in the late 30s, early 40s. At this stage there is a need for a nutritious and moisturizing boost, thus combating the characteristic signs of aging. Rejuvenates the skin, improves firmness and elasticity, with a plumping effect. With Bakuchiol, a retinol-like ingredient of plant origin, with a more effective anti-aging and antioxidant action. It does not cause irritation and can be used on all skin types. The presence of high and low molecular weight Hyaluronic Acid allows the elimination of fine lines and wrinkles caused by dehydration, increasing firmness. Revitalizing, adds luminosity and brightens the skin, evens out the texture. With Colloidal Oats, Rice and Corn rich in antioxidants, it prevents aging and photoaging.
Night Cream, with Anti-Aging action, nourishing and moisturizing, indicated when wrinkles are present, and is therefore recommended from the age of 40.
Apply at night, to previously cleansed skin, with D'AVEIA Ceutics Anti-Aging Micellar Solution, massaging until completely absorbed.
Bakuchiol; High and low pm Hyaluronic Acid; Glycolic acid; Lactic acid; Tripeptide 38; Colloidal Oatmeal; Rice; Corn.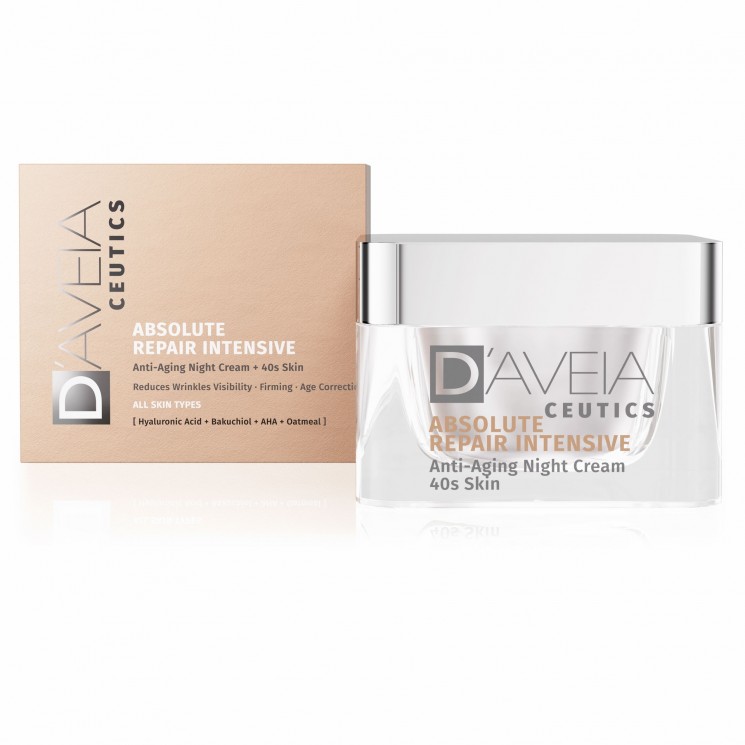 Search this Store
D'AVEIA Ceutics Absolute Repair Intensive 40s