D'AVEIA Ceutics Absolute Eyes
15 mlAnti-Aging Cream for the eye contour area. Reduce and prevent puffiness and dark circles.
With high and low molecular weight Hyaluronic Acid, it eliminates wrinkles and fine lines due to dehydration. The presence of the Natural Anti-Aging Factor (GABA) reduces the appearance of expression wrinkles, through relaxation, thus promoting a Botox-Like effect. It has a Tensing Effect as, when applied to the skin, it forms a network that dries after 5 minutes, retracting the skin - ''Lifting Effect'' and Tensing at the eyelid level. Reduces and prevents the appearance of dark circles, reducing the synthesis of pigments responsible for dark coloration (Melanin, Iron and Bilirubin). Due to its draining action, it prevents and reduces puffiness under the eyes. The presence of a Soft Focus ingredient allows you to disguise and reduce the visibility of wrinkles, through optical illusion, while simultaneously giving a silky touch. Provides firmness, luminosity and plumping effect.
Cream specifically formulated for the delicate area around the eyes, with anti-aging action Reduces and prevents dark circles and puffiness under the eyes. Suitable for all skin types.
Apply to the eye area, previously cleansed, with D'AVEIA Ceutics Anti-Aging Micellar Solution, massaging gently, with small touches until completely absorbed. It must be applied morning and night.
High and low pm Hyaluronic Acid; Natural Anti-Aging Factor (GABA); Polymer with Tensing Effect; Exclusive Eye Complex; Soft Focus; Colloidal Oatmeal; Rice; Corn.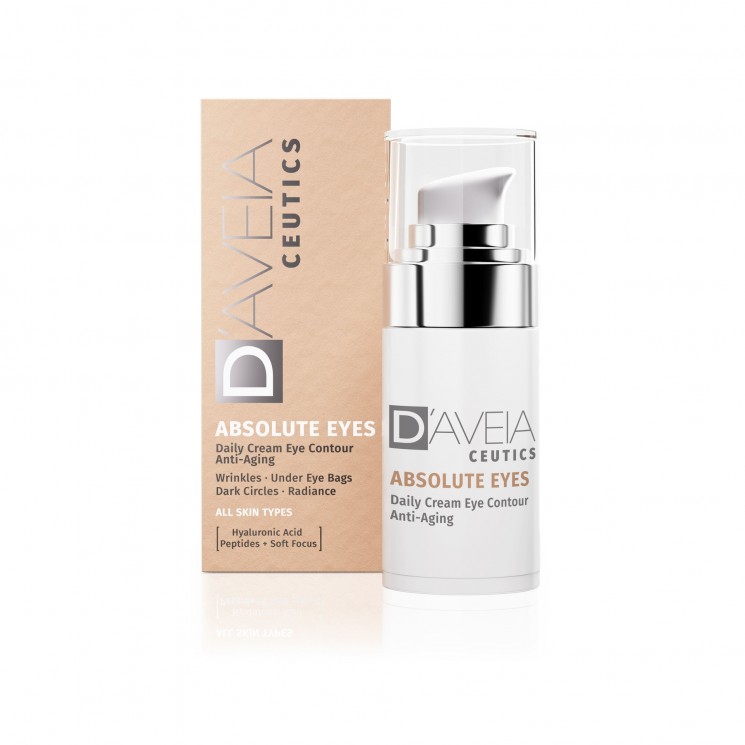 Search this Store
D'AVEIA Ceutics Absolute Eyes